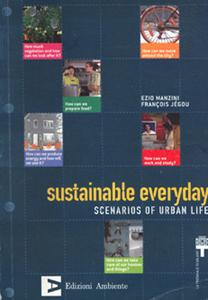 Sustainable Everyday: Scenarios of UrbanLife; SAIC Students
Ed. By Ezio Manzini, Francois Jegou
The School of the Art Institute of Chicago's Department of Architecture, Interior Architecture and Designed Objects was the only American school to participate in the global series of Symposia on Innovative Solutions for Sustainable Ways of Living led by Ezio Manzini, Director of Milano Industrial Design. Ideas about rethinking use, consumption, and life cycle energy expenditure in everyday living to achieve true 'well-being' challenged students to conceptualize low resource intensive processes to be socially regenerative. Citing everyday rituals of bringing food into the house or driving children to school, the over expenditure of energy and resources in commonly accepted activities were reconceptualized. The work was exhibited in Italy and the Netherlands.